Latest updates featuring Sinful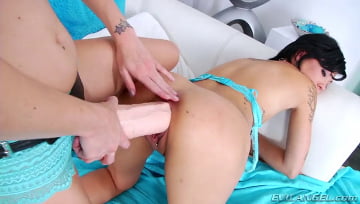 28th March
- An array of bold tattoos decorates shorthaired brunette Sinful. She applies a clear suction tube to swell her big, pink labia into a thick knot of pur
ple pussy meat -- her clit hood piercing shows in the tube and she rips a pussy fart! Sinful cranks her fleshy, wet cunt open with two hands. This pussy acrobat makes a big ball fly out of her twat. Fair-skinned brunette Hailey Young's massive, strapped on dildo barely fits, but Hailey fucks Sinful doggie-style, stretching her cunt lewdly. There's kissing, cunnilingus, sweaty fucking and more gigantic toys for Sinful's snatch ... like a ridiculous, spiked dildo.
...Read More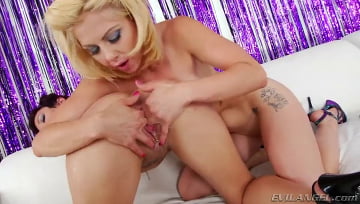 24th February
- Director Jay Sin combines blonde cutie Holly Hanna and tattooed, pierced Sinful in a signature sloppy-wet girl-girl scene. It's almost 50 minutes of m
outh kissing, pussy eating, ass rimming and huge dildo play, all copiously drenched in flowing spit. The girls' revealing purple outfits match the progressively longer, fatter toys they make disappear in their slick, hungry holes. These natural-bodied sluts swap drool, dildos and passion.
...Read More